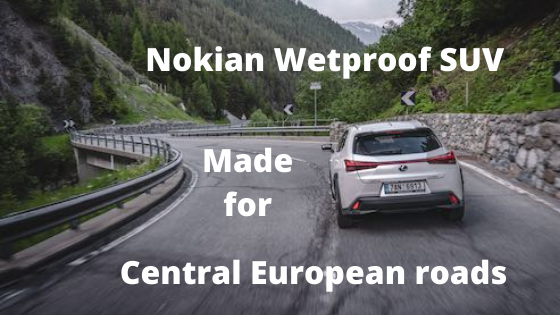 When you live in an area that has harsh winters, it is better to invest in an all-season tyre if you want to limit yourself to only one set of tyres. You otherwise have to combine your SUV summer tyres with a set of SUV winter tyres. With an SUV all-season tyre, you don't have to buy a winter tyre. This is because the all-season tyre holds the same 3 Peak Mountain Snowflake (3PMSF) symbol as the dedicated winter tyre. You might wonder how well they will perform in the summer. It turns out that the same features that provide excellent grip and traction in the winter will make your SUV perform great even off-road in the summer.
All-season tyres really allow for ultimate performance in all weather conditions in comparison with summer tyres that can only perform well during the warm seasons. The name summer tyre is misleading, as they are not apt to handle severe winters. The all-season tyre is really a mix of a winter tyre and a summer tyre. But what about the summer performance? Summer actually requires tyres that can prevent aquaplaning. During the summer months, when it rains heavily, the risk for aquaplaning is very high. Aquaplaning is actually the biggest reason for accidents in the summer.
The Nokian Seasonproof SUV tyre is an all-season tyre specially made for SUVs, which can offer high performance throughout all seasons, and with the latest innovations, it offers ultimate performance regardless of if you face snowstorms, heavy rain or sun-scorched asphalt. By using snow claws on the tread's diagonal and longitudinal grooves, it ensures improved grip for lane changes and cornering, even on snow. This tyre also provides protection from both aquaplaning and slushplaning by effectively removing rain and slush away from the contact area through its special tread pattern design.
SUV all-season tyres are able to give all-season durability throughout the year, protecting from hydroplaning in all seasons. A tyre like the Nokian Seasonproof SUV offers excellent grip and handling both during the summer and winter. With incorporated innovations like the new Dual Performance SUV compound, they allow for a perfect balance between both winter and summer properties. This is achieved by the compound which is composed of a new SUV performance resin and with a higher degree of added silica. This gives the tyres increased stiffness. This superior traction and grip and with the added durability of the Aramid sidewalls, means that you can enjoy your SUV even when driving some lighter off-road.
These are great for areas with unpredictable winters where you might feel that winter tyres aren't always needed. If you instead have enough winters to warrant a change to winter tyres, it becomes more of a decision to make which tyres actually suit you the best. For areas with very much ice, the SUV studded tyres might be the best option for optimal grip and traction on icy roads.
For more information regarding SUV all-season tyre: https://www.nokiantyres.com/