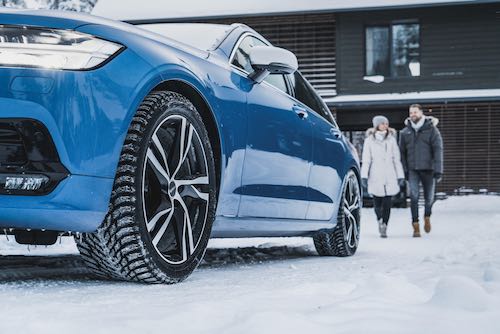 What you need to know to choose tires for electric and hybrid cars, you need to keep in mind that electric and hybrid vehicles are significantly heavier than regular combustion engine cars as the batteries substantially increase the car's weight. This additional weight means that you need tires that will provide the extra grip and traction needed to brake and maneuver the vehicle in general. You should also choose an eco-friendly low rolling resistance tire to increase the electric car's electrical range and save fuel in hybrid vehicles. This, in turn, will leave a lighter environmental footprint.  Rolling resistance is the friction that the tires encounter when rolling on the road, so things that affect the rolling resistance are the tread pattern on the tires, the weight of the car, and inertia. With low rolling resistance, it lowers the energy needed for the car to move forward.
Nokian Tyres manufactures all-season tires, all-weather tires, and winter tires suitable for hybrid and electric cars. Nokian Tyres make high-quality tires to help bring out the most in your hybrid or electric vehicle, with their whole lineup of tires having low-rolling resistance and excellent grip. These tires are also manufactured in eco-friendly factories worldwide, including in the Dayton, Tennessee facility, which recently earned the LEEDv4 silver certification for its solar power and energy-efficient design.
In addition to low rolling resistance tires, it is also vital to maintain tires with the recommended dimensions and proper air pressure. This will help conserve energy and help you save on gas. With manufacturers adding silica to reduce rolling resistance, this will strengthen the tire, making it stiffer. Keep in mind that larger than recommended tires can increase the rolling resistance, so always follow the recommended dimensions for your car. Tire dimensions are marked on the sidewalls of your tires, so make sure when buying new tires to replace them with the exact dimensions.
The Nokian zLine all-season tires are just one example of a Nokian tire made for electric and hybrid cars. Like all Nokian tires, these tires are made up of only natural raw materials enduring an eco-friendly manufacturing process.  You will enjoy the ultimate handling and comfort with grip and traction on road surfaces, wet or dry, with excellent grip allowing to help with both accelerating and braking even with the heavier hybrid or electric car. The Nokian Tyres company also offers all-weather tires, winter tires (studded and non-studded) adapted for hybrid and electric cars.
When choosing tires for electric or hybrid cars, make sure to buy tires that have excellent grip and traction and low rolling resistance. In addition, make sure to keep to the manufacturer's recommended size tires for your make and model car or SUV and buy low rolling resistance tires to benefit from the increased energy savings while also enjoying the best handling and performance. Keep in mind that Nokian Tyres offer tires suitable for hybrid and electric cars.
For more information on tires for hybrid or electric cars, visit https://www.nokiantires.com/